For Free Consultation:
818-222-8042
21133 Costanso Street
Woodland Hills, CA 91364
Acne Treatment Woodland Hills - Laser Treatment for Acne
Acne is generally successfully treated with a variety of topical and oral medications. Laser treatment can improve acne and also lead to the reduction of acne scars. When you arrive for your appointment your doctor may apply a topical anesthetic to help numb your skin. Many patients do not require this but those who are sensitive to pain, or those with an active breakout, may want to use it so the treatment will not be too painful. We are one of the most advanced skin care center specializing in the treatments of acne.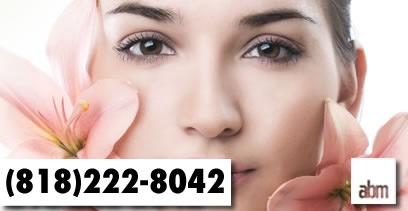 ACNE AND ACNE TREATMENT
Using the most advanced skin care technologies, as well as the traditional holistic approach to treat problem skin. As your doctor uses the laser hand-piece to direct the beam of light to the affected areas you may notice a snapping sensation against your skin. Many people describe this as being similar to a rubber band snapping. Many of our clients, who have just finished long term treatments by dermatologist's, after swallowing a tremendous amount of antibiotics, using medicated creams and lotions, without any long term success. Most of them are back where they have started from, acne, scars, damaged, and blemished skin.
Acne scars are treated by a variety of different methods. Skin resurfacing with laser, microdermabrasion, chemical peels, or injections with soft-tissue fillers can all make noticeable differences in appearance of your acne scars. Laser treatments are an effective way to treat your acne. This gentle, safe treatment uses a laser to target overactive sebaceous glands in your skin - the root cause of acne. Medical lasers like Fraxel laser are safe and have been used for over 20 years to treat many medical conditions.
Laser Hair Removal in Los Angeles the new generation of advanced painless laser hair removal removes unwanted hair.
Want to know more about acne scar removal?
To schedule an appointment to discuss acne scar removal or the treatment of other types of scars, feel free to contact us at 818-222-8042
We also specialize in (possibly covered by insurances):
Alternative medicine
Asthma and allergies
Arthritis
Blood pressure management
High cholesterol treatment
Male and female sexual dysfunction
Obesity
Osteoporosis
Sclerotherapy
Sexually transmitted diseases
Skin, nail and hair treatment
Skin Tag Removal
Trigger point/ tender point/ joint injections
Vitamin therapy
Weight loss programs
Women's health